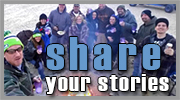 One of the many ways we are able to bring you so much of the latest news and updates from Dumont is because of duners like yourself! We try to get as much as possible posted for the community but its really up to you guys to help us make it happen.

If you have a story or photo that you would like to share with the community, there are a number of ways of doing so.

1) Email (the old fashion way) - info@dumontduneriders.com
2) Forum - Post it to our forum in Dumont Happenings or General Chat
3) Facebook - Post it to our Facebook page or message it to us
4) Instagram - Tag us @dumontduneriders or use the hashtag #dumontduneriders on Instagram



It doesn't matter if it's earth shattering news or just a photo of your latest big air, we would love to see it and hear about it.
27 guests, 0 anonymous users
Jamesriggle, claytondavis, DuNe~Rydher, desertrider71, carrerajet
Home