Wow, what a killer weekend. TCS T and I showed up Friday around noon and with the Red Bull camp. After setting up we walked over and said whats up to Renner and unloaded/delivered his trophy truck...ok RC trophy truck.

Shortly after that we started hitting some jumps with him and Ricky Johnson. I never aired my car out so high. YIAH! I just followed Renner in his RZR about the same speed and my car was sailing.

That jump wasn't even that big but it hit just right. Later that night Donnkey rolled in and we got the party started. The night consisted pretty much of bs'ing around the fire and meeting some new faces. Beer pong under the Red Bull tent was fun. RJ is pretty much pro at that game....calling each cup as the ball left his hand. Dude! I couldn't believe that guy! Later as the night became morning, TCS T says "I'm bored, let's go to comp". Perfect idea! We load up the essential party items and get some of the crew to join us. After 2 minutes at comp, we had the DJ speakers and gennie setup plus a nice ragin fire and beverages. Good times!
Saturday am sanddunesaddict rolled in and got setup. Donnkey was itching to go for a run so the 3 of us rounded up RJ, Bryce, and Randy in the Tatum car. What a great dune run. It was a little difficult to read the dunes (I was leading) as it was super overcast and the dunes were wet on top and smooth, but we were jamming and the dunes were empty. We zig zagged just about everywhere out there from the south end behind comp then over to the north end.
Saturday afternoon Jakster, steveo, Jason and John rolled in. Most of the afternoon we all kind of just watched the guys go big on the bikes and bounced from each jump location in the cars. We went out one time looking for Renner and the guys, didn't find them for sh*t, but ended up doing a super relaxing dune cruise out to the north pole. Donnie said he didn't even put his seatbelt on because we were cruising so slow.

Sat night it was a little more tame than Fri night but still good times nonetheless with everyone. Wacker went from interview to passed the eff out in like 45 minutes! That guy is a crackup! We got some laughs out of him around the fire and made up a nice fireside bed for him. hahaa
Anyways, there are so many more details I can't even remember right now but the Freeride tour at D was off the hook. Renner said it was way more toned down due to permitting issues, but I still thought it was a blast.
Huge thanks to Renner, all the peeps at Red Bull, and everyone else in camp. We met some really great people this weekend and had a very memorable time for sure. Everyone was really good people. Looking forward to the next one. Those crazy bastards were gettin some serious air out there and looked great. We're gonna try and make Pismo happen.

I have a TON of pics so please be patient as I slowly upload them all but here are just a couple to start.
Here's one of my favorites from the weekend. Wacker was passed out and we took a group photo around him.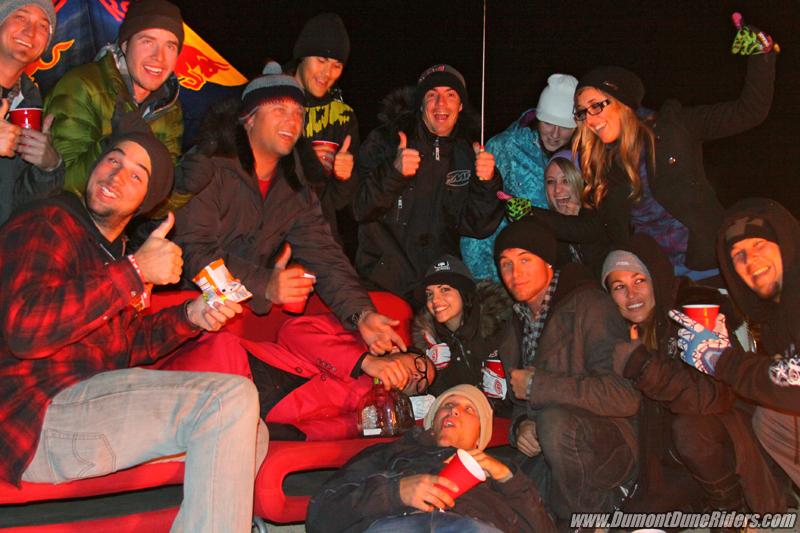 A couple of Renner...