The Las Vegas Jeep Club will be holding their 40th Anniversary Jeep Jamboree at the Dumont Dunes on February 17-19. Several Pioneers of this event will be on hand to celebrate the 40th edition. Saturday will feature the Hill Climb portion of the event while the Sand Drags will be held on Sunday.
NSDN
is planning on making it to this event for the first time to cover the action. View the letter below for some Racer/Sponsor Info.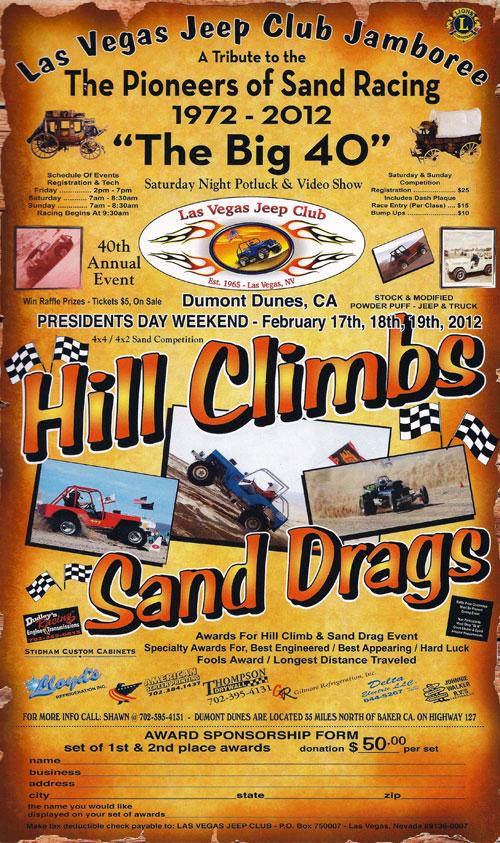 November 5, 2011
Dear Racers and Sponsors,
The Las Vegas Jeep Club is proud to announce "A Tribute to the Pioneers of Sand Racing" with the 40th Annual Jeep Jamboree. The event will take place on Presidents Day Weekend, February 17 – 19, 2012 at Dumont Dunes, CA. The format will remain the same with Saturday Hill Climbs and Sunday's Heads Up Sand Drags.
The club is producing a DVD video to be shown Saturday night during the pot luck barbeque dinner located @ the LVJC camp. The video will explore the history of the Jeep Jamboree. If you have photos of past jamborees you would like to contribute to this DVD, please send pictures on a disc or flash drive by December 1, 2011. (Your disc/flash will be returned to you).
Special awards to Raffled Class Winners and Unique trophy award concept…
Congrats to last year's Unlimited Hill Climb Winner: Dean Becker of Brush Prairie, Washington.
This was Dean's first time Hill Climbing and will he bring his WA competition buddies this year?
Here are some new ET record holders for the X classes; X500 Big Block 4W Drive – John Warren with a 4.517, and Pro Drag, Tracy Malan with a 3.763.
New BLM info regarding 2012 passes will not be available for purchase at the dunes. You must purchase your weekend passes in advance. For more info, call Barstow Field Office @ (760) 252‐6000.
DUMONT DUNES Pass Vendors 2011‐2012 Season
Kinsail Corp www.dumontdunespermits.com 3600 N. Upland St. Arlington, VA. 22207...703 994-4194
K&Y Country Store, P.O. Box 440 Baker, CA. 92309...Phone 760 733-4252
Parker MC/ATV, 301 Ox Bow #3, Pahrump, NV. 89048...Phone 775 537-6686
Grewal Travel Center, 72363 Baker Blvd., Baker, CA. 92309...Phone 760 733-4505
Valero Service Station, 71808 Baker Blvd., Baker, CA. 92309...Phone 760 733-4542
Johnnie Walker RV, 4784 Boulder Highway, Las Vegas, NV. 89121Phone....702-436-2495
General Store, Highway 127, Shoshone, CA. 92384, Phone...760 852-4224
Doghouserepair, 1371 W. Basin Ave., Pahrump, NV. 89060...775 727-9344 www.doghouserepair.com/events/dumont
Carter PowerSports, 6775 South Decatur BLVD, Las Vegas, NV. 89118, Phone...702 795-2000
Trophy sponsorship form is enclosed on flyer and raffle prizes are needed. If you would like to be involved or have any questions with this historic event, please contact Shawn Thompson @ (702) 395‐4131.
Mail Trophy Sponsorship to: Las Vegas Jeep Club
P.O. Box 750007
Las Vegas, NV 89136
Mail Driver Packet Inserts and
Door Prizes to: Las Vegas Jeep Club
5670 N. Park Street
Las Vegas, NV 89149
Very truly yours and Happy Holidays!
Las Vegas Jeep Club