Dumont Passes
weekly
$30 for a weekly pass for any non-holiday week
$40 for a weekly pass that includes a holiday weekend
season
$90 for a season pass with holiday black-out dates
$120 for a season pass that includes holidays

Holiday blackout dates include: Halloween, Thanksgiving, New Years, MLK weekend, & President's Day

Note: If you have a $90 annual pass (non-holiday weekend season pass) and choose to go on a holiday weekend, there is a $10 holiday weekend surcharge you will have to pay.
Onsite Payment: Onsite fee machines at Dumont Dunes take cash and credit cards. Please bring the exact amount for the pass. The fee machines do NOT make change. In addition, annual passes are not available from the on-site fee machines. Only weekly passes are sold from the machines.
Where to buy

Season Passes are not available on site at Dumont. Only weekly passes are available from the onsite machines.

Season passes are only available through the Barstow BLM office, or through a vendor selling the Dumont passes. You will have to purchase a weekly pass if you show up without an annual pass.
Annual passes are good from Oct 1, 2014- Sept 30, 2015
BLM, Barstow

,

phone: (760) 252-6000

ONLINE: Kinsail Corp

, 3600 N. Upland St. Arlington, VA. 22207 phone:703 994-4194

http://www.dumontdunespermits.com
Doghouse Repair, 1371 W. Basin Ave., Pahrump, NV. 89060
phone 775 727-9344
ONLINE: http://www.doghouserepair.com/store/category/1315/


K&Y Country Store, P.O. Box 440 Baker, CA. 92309
phone 760 733-4252

Baker Shell, 72352 Baker Blvd., Baker, CA. 92309
phone 760 733-4753

Parker MC/ATV, 301 Ox Bow #3, Pahrump, NV. 89048
phone 775 537-6686

Grewal Travel Center, 72363 Baker Blvd., Baker, CA. 92309
phone 760 733-4505

Valero Service Station, 71808 Baker Blvd., Baker, CA. 92309
phone 760 733-4542

Johnnie Walker RV

, 4784 Boulder Highway, Las Vegas, NV 89121 phone 702-436-2495

General Store, Highway 127, Shoshone, CA. 92384
phone 760-852-4224

Carter PowerSports, 6775 South Decatur BLVD, Las Vegas, NV. 89118
phone 702-795-2000
Have a place you'd like to add here? E-mail us! info@dumontduneriders.com
Additional Information about Dumont Dunes Passes
Note: If you buy a pass near a holiday week, the sales person may ask what days you are going out. For example, if you buy a pass Jan 10, a 7 day pass would include several "holiday days". If you were only going out for the non-holidays, such as Jan 10-12, the salesperson may date the pass for Jan 10-Jan 13 to avoid the Jan 14 – Jan 20 holiday period. This would allow you to buy a $30 pass as you would not be at the dunes during a holiday. If you wanted the pass for the full 7 days it would include holiday days so you would need a $40 pass.

You need a pass for each vehicle driven into the dunes. You do not need passes for your trailer and green sticker vehicles in your truck or trailer, but only for the primary vehicle you drive in with when you enter and exit.

All passes must display your last name and the license plate number of your vehicle.

Passes can not be given to someone else.

Passes may be taken from you by BLM employees if you violate a rule at the dunes.
Dumont Dunes Fee Collection
BLM employees are not able able to collect money. This is for the employee's safety. The BLM STRONGLY RECOMMENDS that you purchase your pass off-site. You may call the BLM at 760-252-6040 for a list of current vendors or keep posted to this page. Passes are sold at many locations and through BLM's Barstow office. BLM will be encouraging off-site purchase of passes. Pass selling on-site will be phased out over the next 2 years. As a part of this phase out effort, annual passes will NOT be available at the fee machines.
There will NOT be window sales this year. FEE MACHINES WILL ONLY SELL WEEKLY PASSES. ALL ANNUAL PASSES MUST BE BOUGHT OFF-SITE.
CA Non-resident OHV Use Permit Stickers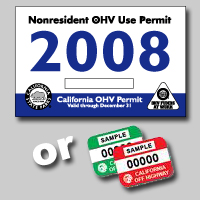 If you are not a resident of California and your OHV is not registered in your home state,
you are required to have a California "Nonresident" OHV Use Permit to legally operate your vehicle.

some vendors that sell the non-resident OHV stickers
Doghouse Repair
1371 W. Basin Ave
Pahrump, NV 89060
775-727-9344
website

ProShop Motorsports & Marine

575 W Lake Mead Dr.

Henderson, NV 89015

For a more complete list of OHV stickers sales locations visit http://ohv.parks.ca.gov/