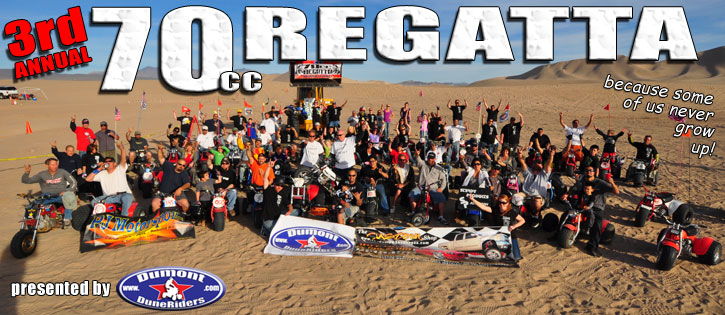 3rd Annual ATC70 Regatta at Dumont Dunes
On Feb 4th, 2010, DDR presented the 3rd Annual ATC70 Regatta at Dumont. This year's event came together even bigger and better. In addition to many regulars from DDR, ATC70 enthusiasts came all the way from northern California and Utah this time! A total of 74 ATC70's were in attendance! That is a new record and quite possibly the largest gathering of Honda 70's in history.
Registration and sign in...you know the drill. First thing in the morning everyone who was racing got signed up, received their wristband and made up a custom number plate.
Riders Meeting

Then after all were signed in, we held a rider's meeting discussing the no no's and details of how the day's events were to go down. Other than the obvious things like helmet, participant wrist band, etc, the rules were simple. Have a good time and don't be a jerk. After all, it's just a plastic trophy and bragging rights right?

Racing
This year we had 4 classes just to make things more fair and more confusing. Why not right? The classes were stock, modified, super modified, and unlimited. Depending on your mods you fell into a class where you could race fairly and competitively against similar modded atcs. There was even a junior class for the kids to race in!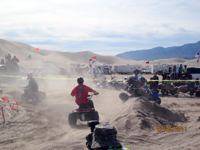 Before the separate class races began, we had a fun all-classes race. It was pretty ridiculous as the track was only designed in some areas to only allow 2 ATCs wide. Everyone staged together and when given the flag, they were off. Funneling down over the first narrow jump at the start line required some caution, but most made it ok. The first turn, however, didn't turn out so well. Bikes were piling up and blowing out the berm. It was pure comedy watching grown adults try to keep these little trikes up on all 3 wheels.
After the chaos calmed down from the all-classes race, the separate class races were underway. Everyone agreed that the racing action was very spectator-friendly and they want to see even more next year. The pictures speak for themselves. Here are a few, but check out Neal Rideout's page where he was able to snap off many amazing shots. http://nealrideout.zenfolio.com/p354760501
Lunch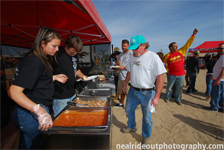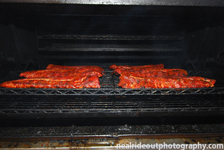 Once again our good friends at Smokin Al's BBQ provided the whole ATC70 crew with outstanding BBQ food. Al put together a lunch package and got everyone fed in a very timely manner. This was very much appreciated as the regatta staff already had many duties. Great grub and good times chatting with everyone at the lunch tables.
Timed Laps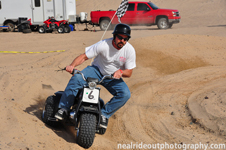 It's too fun not to do. See who can lay down the fastest lap possible. Each rider who wanted to be part of it got the track to themselves for 3 laps. The best of their 3 laps was their fastest time. Then we figured out who was the fastest lapper and the slowest lapper and that little guy got a trophy as well. Shown in the pic is Randog coming around one of the turns.
Drag Races
A separate drag race strip was set up next to the track. Spectators lined the sides and cheered the racers on. There's something about a good old fashion drag race that gets racers pumped. Some guys have grudge races to settle and some guys just love the classic one on one style racing.
Show-n-Shine and Group Photo
After all the racing was over, we lined each and every ATC up. Everyone voted on the following: Cleanest Factory ATC, Ugliest ATC, Most Tricked out ATC, Best themed ATC, and Best of Show ATC. There was a total of 74 ATCs counted in camp that day! Everything from old bone stockers to fully, gorgeous tricked out and themed trikes!

Raffle/ Awards
Once all the photos were taken and everyone took a short break, it was time for the raffle and trophies. This year there were many generous donations from several sponsors who came forward to make this event happen. Everyone was very excited about the prizes this year. We cannot thank the sponsors enough. It topped the event off perfectly with the cool items that everyone went home with.
Track Races

Junior: #9 Parker Wood
Stock: #95 Daniel Rivers
Modified: #667 Alex Bircheff
Super Mod: #24 Aaron Hodges
Unlimited: #287 Joey Myrick

Timed Lap Races

Fastest Lap: #24 Aaron Hodges, 18.75 seconds
Slowest Lap: #5 Gunner Fuson, 34.83 seconds

Drags Races

Junior: #9 Parker Wood
Stock: #95 Daniel Rivers
Modified: #808 Bo DeCosta
Super Mod: #19 Aaron Cimino Jr
Unlimited: #55 Ron Baker

Show n Shine

Ugliest 70: Dan Best (Duner Dan)
Best of Show: Travis Reif (TCS T)
Best Theme: Joshua Flores (Tapout bike by full_throttle_flores)
Cleanest Factory 70: Lindsay Bircheff
Most Tricked out 70: Joey Decosta (Island Chain Racing)

Pics and lap times will be posted soon.


Sterdy 125 Motor raffle grand prize Winner
Andy Trent (dune rat)
Lifan 125 kit raffle/ project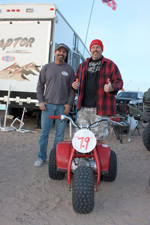 One of the kickass raffle prizes was a complete Lifan 125 engine kit provided by Sterdy Products. Not only was it an engine kit, but Tres Hombre and his crew installed it during the raffle in record time! Dune Rat (Andy) was the lucky winner of the motor and it was the fastest mod his ATC ever received. It went home a much faster bike for sure. He was thrilled.
Special Thanks to Smokin Al's BBQ
Here is Brian accepting the "Special Thanks to Smokin Al's BBQ" trophy with a pig on top!
Thanks to all of our sponsors who made the 3rd Annual ATC70 happen!
Painterjoe who donated an ATC70 paint job!
The Custom Shop: www.thecustomshopvegas.com
Extreme Performance: www.extremeperformance1.com
PJ Motorsports: www.pjmotorsports.com
atc70decals.com: atc70decals.com
Jet trim: www.jettrim.com
DDR members, Bustinbs/superstar70, who helped with some great donations and pics/ videos
Inspirnetics: 9390 7th Street # B, Rancho Cucamonga, CA 91730
Las Vegas Dynotech: www.lasvegasdyno.com
Nealrideoutphotography: www.nealrideoutphotography.com
Sterdy Products: www.sterdyproducts.com
DRATV: www.dratv.com
Johnnie Walker RV: www.johnniewalkerrv.com
HondaATC70.com: hondaatc70.com

Videos
Racing action...
Race footage from Tachyon!