by Pete@DumontDuneRiders.com

June 1, 2008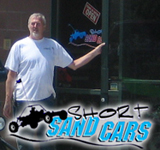 Short Sand Cars has been building motorcycle powered sandrails since the early to mid 90's. Each and every one of their cars they build are custom tailored to their customer's desires. Nothing but dedication and attention to detail goes into the cars they build. As a return customer, it was time for us at DDR to build a one of a kind Short Sand Car.
Some people build Hayabusa rails mostly for hill shooting. They make them extremely light and build up a very high horsepower turbo-charged Hayabusa to annialate most full size cars at Comp Hill. Well, that was not goal with this car. We were more focused on duning this machine. The main objective with this car was to build an extremely strong sandcar that could withstand the aggressive duning abuse and steep terrain of Dumont Dunes. With safety always a concern, we wanted to make it as safe as possible for years of duning pleasure.

The build started with choosing a strong tubing for the chassis. Most of their cars are built from mild steel. We opted to go with .095" 4130 chromolly tubing instead. It costs slightly more, but it is well worth it in our eyes. The frame had multiple gussets added including b-pillars and an x-braced front end and roof. Slightly larger than normal diameter tubing was used in places like the frame cross bracing and the bar behind the seats that the seatbelt harnesses mount to. Adding this extra bracing helps maintain the frame's integrity and makes it much more rigid for aggressive driving, not to mention safer.
All the suspension on this car was also constructed out of 4130 chromolly. 1 1/8" diameter front a-arms connect to custom made chromolly spindles. The spindle shafts

are larger than even those of some full-size cars which are usually
1 1/4". They feature the same design using a rolled radius edge as seen with a combo spindle, but instead use a slightly larger custom 1 3/8" shaft. Then the steering arms were boxed in and gussets were added for lateral support for those hard turns. Fox 2.0 coil over shocks were used instead of air shocks (which some people commonly use). These provide a more stabile and controlled ride height which is needed for those hard "g-outs" and transitions that you can come up on unexpectedly during a ride. To also help with stability, 15" Douglas wheels were used at all 4 corners. The front tires are 6.75x15" smoothies. These tires keep the "sand in your face factor" to a minimum while still providing plenty of footprint for excellent turning ability. The rear paddles on this car are 13.00x15" comp cut Sand Squirts. They are a very good all-around tire that provide plenty of hookup while still offering sufficient flotation on the sand.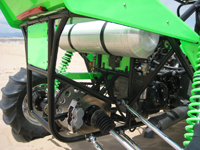 As for the powertrain, this car uses a stock Suzuki 1300cc Hayabusa motorcycle engine. It produces about 175 horsepower which is plenty of power to blast the 1000 pound machine through the dunes. As for the 6 speed transmission, it is all integrated with the engine assembly since it is a motorcycle engine. It is all mostly stock with the exception of undercut gears which

provide improved holding power while under acceleration and also offer a more positive shift. The transmission transfers it's power via a 530 X-ring chain to a heavy-duty 63 tooth rear custom sprocket by Sprocket Specialties. Then there are 930 c.v axles that connect to race strength steel hubs and custom stub axles.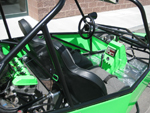 Moving to the cockpit, we used PRP Premier Highback seats which have removable cushions. These are nice because it makes it much easier to clean the sand out after a weekend at the dunes. For added safety, the seats were hard mounted instead of using slider tracks. There are 3 seat adjustment holes in the frame should we ever need to adjust them for a shorter driver. Then a set of 2" five point Crow padded harnesses were installed. The crotch strap within the five point harnesses add safety and piece of mind by keeping the lap belt from riding up from the proper position, your lap. A custom console features an Intellidash which displays all necessary vitals of the engine like coolant temp, oil pressure, battery voltage, charging status, speedometer, and tach. Just below the Intellidash, an LED gear shift indicator displays what gear the car is in. The console is also where all the

necessary switches are mounted for the lights, fans, and ignition. For lighting, we used a pair of Trail Tech SC4 internal ballast HID's. They come in 30 and 40 watt setups. We used the 30 watters because of the fairly low output of the Hayabusa's stator. A slightly larger than motorcycle size battery was used, but we have plans to upgrade to something like a dry cell Odyssey battery for more reserve power later on.
To finish it off and give it a one-of-a-kind/ unique look, we chose a satin black powdercoat from Prismatic Powders for the chassis. The satin look gives it just enough "sheen" and doesn't show as much sandblast or scratches as a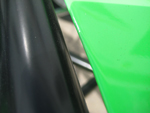 glossy black would. Then to give this car a vibrant color that contrasts well up against the satin black, we went with Silver Sparkle over Limelite. Other than looking great, this color also adds to the safety factor that we were after with this car. If you can't see this thing in the dunes, then you really shouldn't be out there. It really stands out and turns some heads. All the suspension arms are chromed and the four corners have the satin black color for the spindles and rear carriers.
The car came out great and we were very anxious to go test it out!