April '14 Dune Pic of the Month

submitted by ynot

Dumont News Topics
Fatal side x side crash
Spring has Sprung. Season winds down

March 14-16 weekend report

DDR featured in Sand Sports Magazine!

sponsored by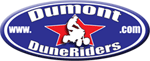 © copyright 2005-2013 www.DumontDuneRiders.com All rights reserved.
links ı contact us ı I've forgotten my password | Forgot your log in name? click here | not a member yet? Register here!