December '13 Dune Pic of the Month

Dumont Sunset Shot with an iPhone5, submitted by Dirt Bike Guy



Dumont News Topics
New Years 2014!
Thanksgiving Reports and Pics
Buggy Roundup group trip: Dec 13-15
Halloween weekend highlights and pics
Fatal Sandrail Accident Halloween weekend
2013/2014 Season Passes now available

sponsored by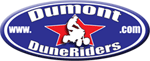 © copyright 2005-2013 www.DumontDuneRiders.com All rights reserved.
links ı contact us ı I've forgotten my password | Forgot your log in name? click here | not a member yet? Register here!