July Dune Pic of the Month

submitted by sand chick and dedicated to our good friend, Bert Coe aka sanddunesaddict who recently passed away.

sand chick: "When I took this photo, he was very interested in what I was doing out in front of him getting just the right angle. When I showed him the photo, he really liked it and asked me to submit it for DPOM for July to represent the 4th of July and America. So here it is since that was his request."

Dumont News Topics
Photos from the Dumont night drags, June 21st
Fatal side x side crash

March 14-16 weekend report

DDR featured in Sand Sports Magazine!

sponsored by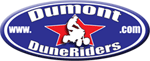 © copyright 2005-2013 www.DumontDuneRiders.com All rights reserved.
links ı contact us ı I've forgotten my password | Forgot your log in name? click here | not a member yet? Register here!