October Dune Pic of the Month

"Chad and his family getting some good air out at Dumont", submitted by nwtdiesel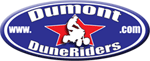 © copyright 2005-2013 www.DumontDuneRiders.com All rights reserved.
links ı contact us ı I've forgotten my password | Forgot your log in name? click here | not a member yet? Register here!