March '14 Dune Pic of the Month

"off weekend sand therapy", submitted by sand chick

Dumont News Topics
Dumont Dunes Cleanup, March 15, 9AM
President's Weekend reports and pics
Sandrail Accident on Comp over President's Weekend
MLK weekend reports
Buggy Roundup trip reports & pics

sponsored by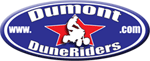 © copyright 2005-2013 www.DumontDuneRiders.com All rights reserved.
links ı contact us ı I've forgotten my password | Forgot your log in name? click here | not a member yet? Register here!