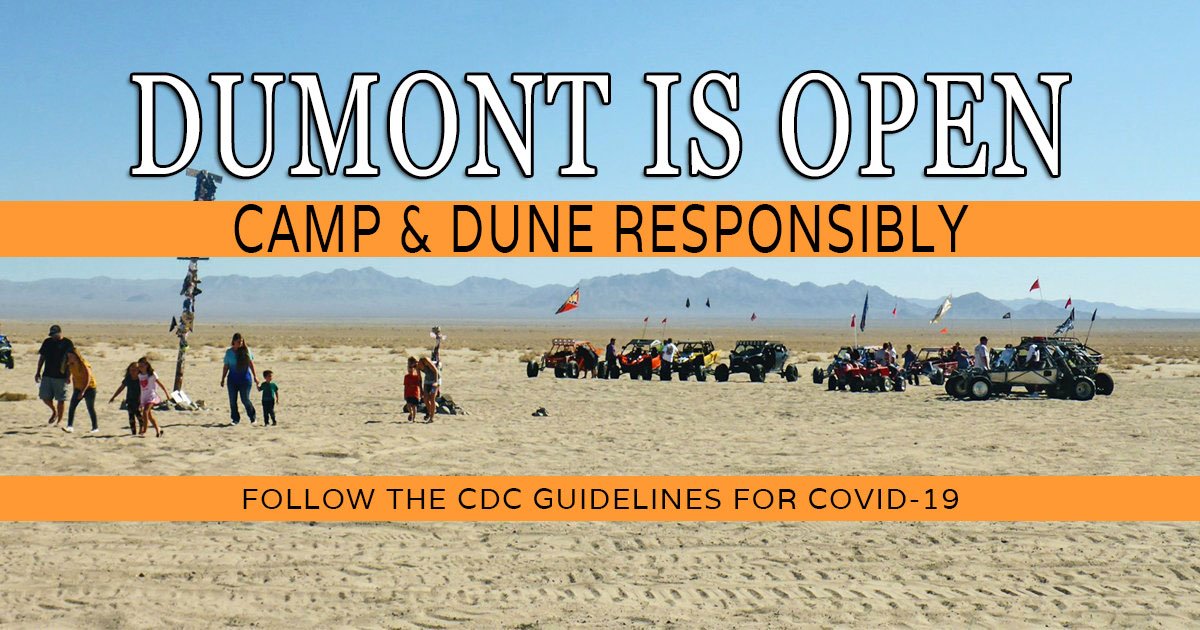 With dune season approaching during this COVID-19 pandemic, questions are on the rise as well as the rumors. Everyone is eager to get back out to the sand and they're gearing up for Halloween weekend. But many of you have concerns. Will Dumont be open? Will there be a Vendor Row? Some people heard rumors that Dumont is closed for Halloween. We spoke with the BLM and they confirmed Dumont is still open. 
 
Dumont passes: You can soon buy your season pass from vendors who sell them. The passes are being distributed to them this month (Sept). You can find a list of those vendors on our passes page. Weekly passes can be purchased on site via the fee machines with a credit card.  Although the Barstow public room is remains closed to the public, a telephone message can be left at 760-252-6000 stating desire to purchase a pass and the telephone call will be returned with a credit card payment accepted.  Another option is to mail request with payment via check to BLM Barstow Field Office, 2601 Barstow Road, Barstow, CA 92311.
 
Vendor Row Update: There will be NO FOOD VENDORS since the San Bernardino County Health Department is not allowing or issuing food vending permits at this time. Social distancing will be strictly enforced. Vendor row will be reconfigured from what you are used to seeing to allow for social distancing.
 
Camp Responsibly: This includes staying home if you don't feel well, recreating/camping with only your household members, practicing social distancing by maintaining at least 6 feet of space between you and others using the site, regularly disinfecting frequently touch items, not sharing equipment unless it has been disinfected between users, and washing hands regularly/using hand sanitizer. There is plenty of space at Dumont for folks to stay socially distanced. This is very important this season. Dumont CAN get closed down if duners do not follow the guidelines. That actually happened at El Mirage earlier this year. Understand that the BLM is a government agency that manages Dumont Dunes and they must closely follow and enforce the CDC guidelines. So cut them some slack and don't take it out on them or the rangers. 😆 We're all dealing with this together and looking forward to a fun, safe dune season!