Calling all sandcars! Come join us at Dumont Dunes for our 9th Annual Buggy Roundup. The Buggy Roundup is an annual Dumont trip when all the sandcar people are invited to come out and camp together as a group. We'll be camped together across from bathroom 10, just off the right side of the entrance road. This trip gives the buggy guys and girls of Dumont a chance to meet each other and run the dunes together for a full weekend without the crowds. So don't be a stranger. Every year we have new people join the camp and end up leaving as friends.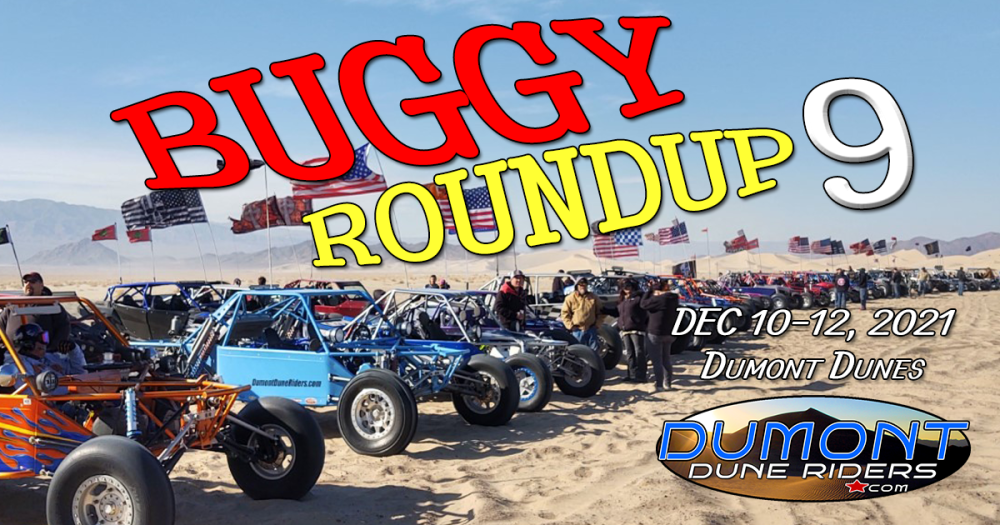 There is no set schedule of events, but it will likely go something like this...
Arrive as early as you'd like. Some get there as early as Tues or Wed. Just don't go hard and break your car before the weekend. 
Saturday
8:00 AM -~10 AM: Sandcars and Coffee: Pull your car into the center of camp. (Or park it there the night before) Feel free to bring out some donuts or breakfast treats to contribute if you'd like. Grab some coffee, say good morning to everyone, and check out all the buggies. This gives everyone a chance to wake up and get the day started. 
10 AM North Pole Dune Run: Join the group as we'll form the biggest train of buggies you've ever seen. We'll do a full dune run (slow to medium paced cruise) through the dunes to the north pole. 
Saturday Afternoon: The rest of the day will more group rides, dune trivia, a raffle and more group dune runs! 
Buggy Roundup/ Camp Rules
Those that wish to camp with the group for Buggy Roundup must agree to the rules set by us, Dumont Dune Riders.
1) Don't be a d*ck! We've never had an issue with anyone at buggy roundup, but we will not tolerate any BS. We are there to have a fun weekend of duning. 
2) Be respectful of others in camp: this means no loud music.
3) No passing on group rides unless you can do it extremely safely while giving that person plenty of room (ie: cut an entire dune to do it. Don't catch them by surprise.)
4) It's asked every year so I feel I need to say it. If you have a side x side, you are not uninvited. Please just understand this one time a year event is for buggies. So please don't get in the middle of the line of buggies for dune runs or photo shoots. 
Want in? Here's what you need to do.
1) On this page, click GOING...
2) Bring your buggy to Dumont and join in on the fun. Don't be a stranger. Park with the group. If you don't know anyone, just ask for PETE. 
Camp Location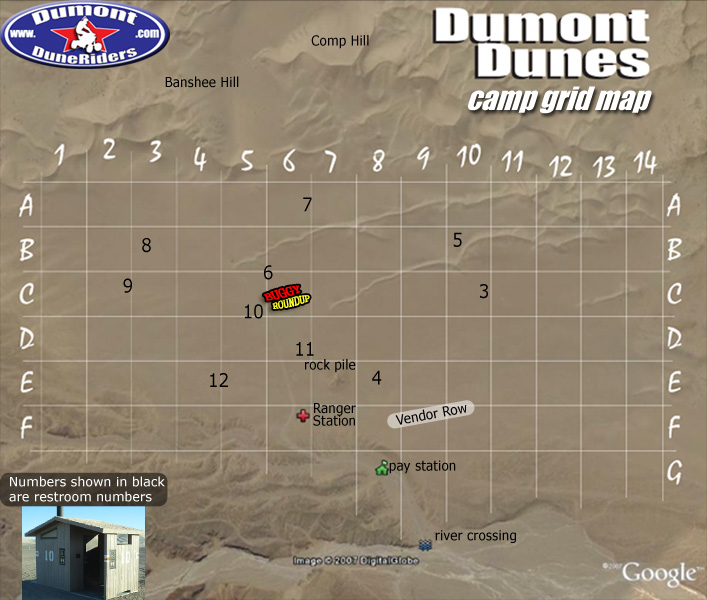 Forum Topic